Introducing the UK's leading local news, information and community platform
Servicing loyal users nationwide, InYourArea is the go-to place for everything that's happening in your local area. Whether it's local news, the latest properties for sale, crime stats, traffic and travel updates or opening times of local shops or services, InYourArea provides local communities with relevant information that makes a difference to their day, in one simple destination.
For advertisers, InYourArea offers a simple and effective way to reach hyperlocal audiences all over the UK – through our postcode targeted solutions, businesses both local and national can reach the communities that matter to them, meaning your adverts are relevant and seen by an audience that's just right for your business.

Advertising Solutions
Our advertising solutions, native to the site, offer a great opportunity to reach a hyper-local audience that's relevant to your business and the communities you serve, providing value for our readers in those areas and a great return on your marketing spend.
Ads are targeted to individuals within a defined radius of the postcode that you wish to target and will appear as content in their live local news feed, meaning your advertisement is seen whilst they are reading stuff that's relevant to where they live or work. What's more, as these ads are targeted based on the postcode users provide when registering on InYourArea, you can be confident that you're reaching the right audience.
From just £19, we have packages for all budgets, so contact us today to discuss how InYourArea can work for your business, or click here to find out more and even create your own ad in minutes.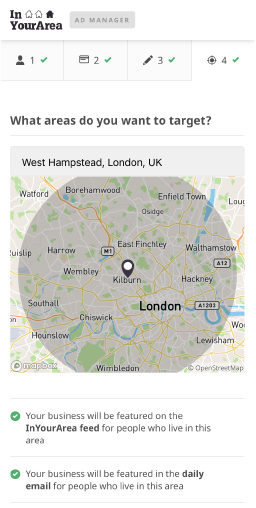 Property Sponsorship
If you're an estate or letting agent looking to drive awareness of your brand within your local communities, InYourArea is right up your street!
By sponsoring an 'Outcode' (that's the first part of a postcode to you and I, such as "LE1"), we can promote your business and properties to people who have registered on inYourArea in that area. We'll put your brand front and centre in users' news feeds. Our newsletters also provide you with a platform to write and publish your own content to your local audience – all from just £250 a month.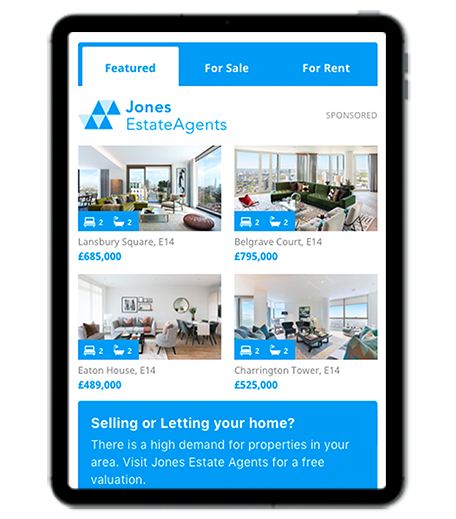 What You Get 
Property Sponsorship – the property section of the InYourArea feed will be branded with your logo and colour scheme, plus your properties will be shown as priority.
Newsletter Branding – your logo will be included in the newsletters sent out to users who have registered within your target outcode.
Blogging Access – whether it's a special property, or a community initiative, you can write and publish your own content to help drive awareness within your target communities
Increased Potential Reach – sign up now and your sponsorship could be extended into neighbouring outcodes, completely free.
It's the ultimate solution for driving property valuations in your area – contact us to find out more and choose the area that's right for you.
* available with 12 month contracts only.
Business Membership
InYourArea's Local Business Membership ensures you have a constant and long-term presence in the areas you serve.
You will have high visibility on a daily basis for a whole year in our emails, live news feed, local services directory and more. This membership package available online only and is perfect for all types of local businesses including tradespeople, shops, hotels, restaurants & service providers, looking for customer loyalty and long-term brand presence.
You can get all of this for less than £2 a week – click here to find out more and become the latest business to become part of our local community.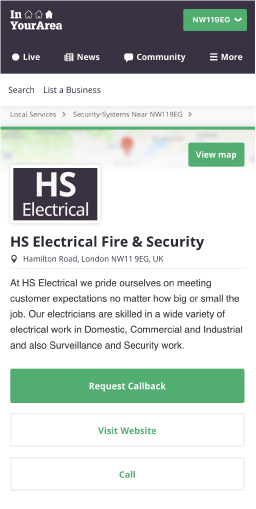 Simple Ads
Sometimes creating an advertising campaign can be complex. At InYourArea, we've tried to keep things as simple as possible. We'll never ask you for more information than we need to create your ad, target your campaign and share your response, and we'll never share your details with any third-parties
What's more, if you've purchased your campaign through one of our marketing consultants, they'll always be on hand to support with advice and guidance on how to create the best ad or generate more engagement – our aim is to make inyourarea work for you and your business.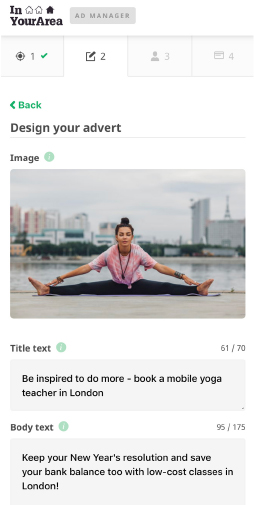 Whilst you're here, we'd love it if you'd join us and your local community on InYourArea.co.uk
All we need is your postcode, so why not click here to get started!
Transparent Response
At InYourArea, we know that every penny you spend on marketing your business is important. That's why we're completely transparent with how your ads are performing.
Whether it's an ad campaign, a property sponsorship, or you're subscribing to become a business member, we'll provide you with 24/7 access to your very own online dashboard giving you full visibility of how your campaigns are performing.
What's more, if you need to discuss your campaign performance, one of our marketing consultants will be on hand to talk through your results and discuss opportunities to refine or extend your reach, ensuring you maximise your ROI.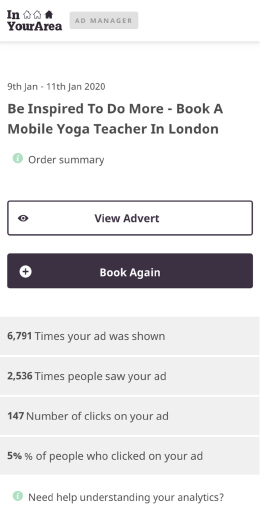 Please select a solution from the
options below to discover more.