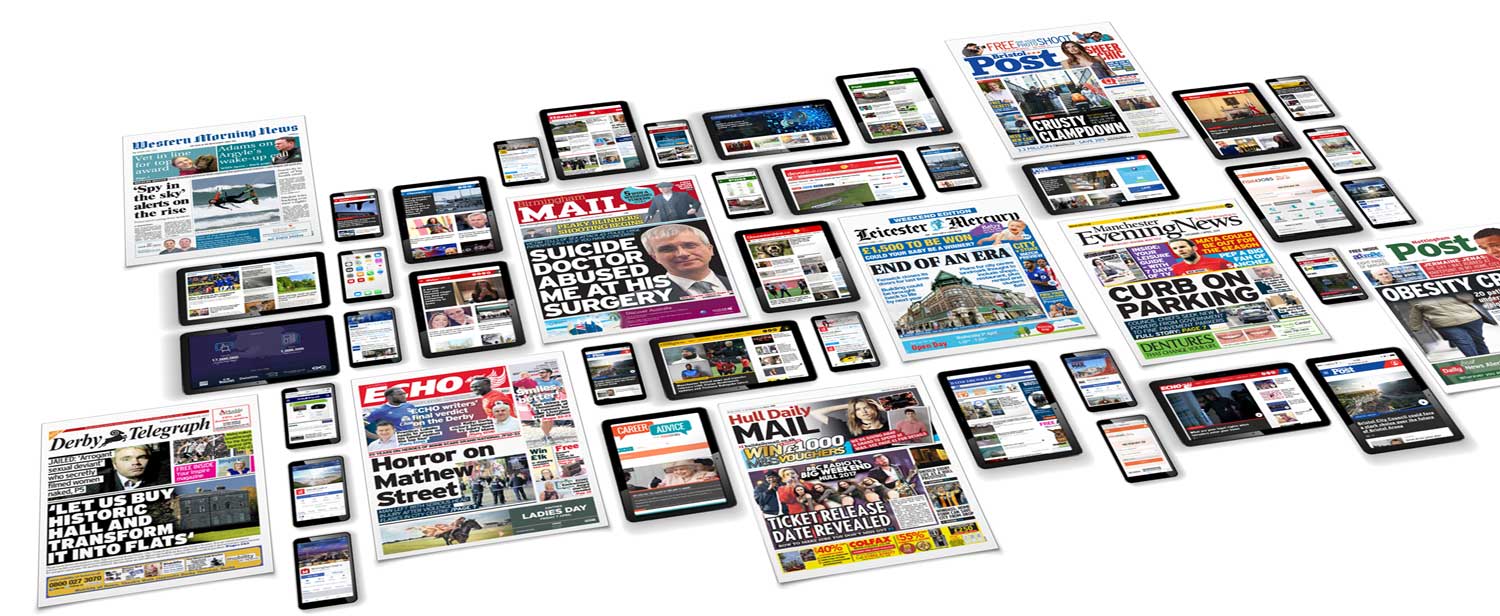 5 ways your local newsbrand can help you get more business
We want to help your business to reach and engage with local, regional and national audiences across the UK. At Reach we publish many of the UK's biggest and best-known trusted and respected regional newsbrands.
From the big city presence of the Manchester Evening News, Birmingham Mail, Liverpool Echo and Bristol Post, to our county-wide websites like Essex Live, Gloucestershire Live, Somerset Live and their associated local print titles, our influential newsbrands sit at the heart of their communities, forming part of the fabric of everyday life for millions of people up and down the country.
We also provide a range of commercial products and solutions designed to put businesses like yours in front of our unrivalled audience. As a result we are best-placed to help businesses like yours to succeed and grow.

Here are five ways your local newsbrand can help you get more business:
 1. Provide you with a wealth of advertising options
You can choose from a variety of digital ad types and sizes, including some eye-catching creative options such as clickable skins and pre-roll videos. This extends to print (we offer impactful positions that will grab the attention of our readers) and also social media (we can promote your business on Facebook, Twitter and other social channels).
2. Target prospective customers
If you wants to reach as many people as possible then we have a range of dominant display options available. But if you'd rather reach your perfect potential customers based on, say, their demographics, lifestyle, location and other details, then we have a suite of powerful targeting tools that will reach the right people, in the right place, at the right time.
3. Embody trust though association
Multiple surveys have shown that the regional press is the most trusted source for local news and information (no fake news, never). By aligning your business and your advertising message with our highly-trusted brands you can increase your own credibility and profile.
4. Link your brand to community events
Each year we stage dozens of highly-engaging events that support a wide range of sectors including business, education, health, sport and leisure. These events provide you with an exceptional opportunity to highlight and promote your business to a captive audience, as well as engage with potential customers and raise your company profile by associating with good causes.
5. Help you market your business online
Our marketing solutions extend far beyond traditional advertising, as we also provide a comprehensive selection of digital marketing services ranging from business listings and paid search advertising to website design and video creation. Plus, our marketing experts will provide transparent and honest guidance on how to get the very best from our suite of commercial products.

Reach Solutions is your marketing partner

Our commercial solutions ensure your message gets to the heart of the communities you're trying to reach. Whether you are looking for local, regional or national solutions, we can help your business succeed and grow.

Get in touch to discover how we can help solve your everyday marketing challenges and help you to reach and engage with audiences across the UK
You may be interested in reading: