Insights
Marketing expertise is key to growth, say small business owners
Britain's small business owners believe specialist marketing advice is the key to growth, a survey carried out by Reach Solutions has revealed.
Of the businesses polled, a quarter chose marketing consultancy as the single most important element that could make a difference to their business.
This was closely followed by website development, with 22% of those quizzed believing a bespoke website could have a real impact and give them an edge over their competitors.
Meanwhile, 10% felt that traditional newspaper advertising remained the number one way of generating exposure. Other elements chosen included social media advertising, advertorials and video creation.
To better understand the marketing needs of the UK's small and medium-sized enterprises, Reach Solutions surveyed more than 280 businesses in the South, East and North of England.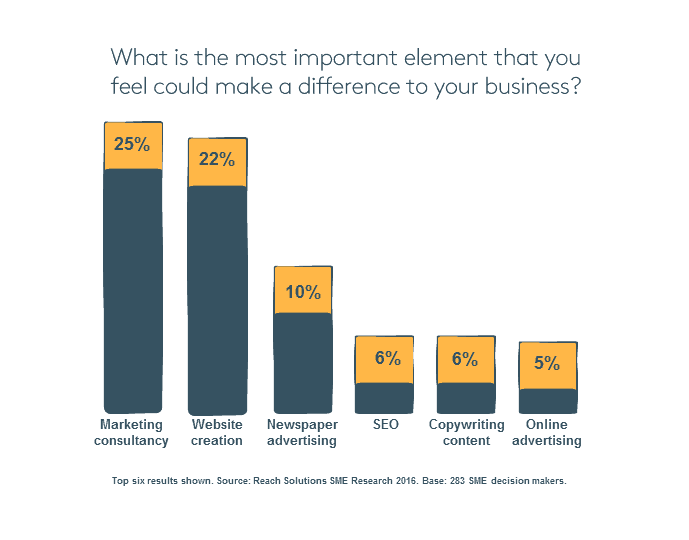 Small business owners "seeking clarity"
Dave Rad, head of customer relationship marketing at Reach Solutions regionals, suggested the research showed that small business owners were confused by the multitude of marketing services and products available to them.
He said: "Marketing consultancy involves all of the available elements so SMEs are seeking clarity above all.
"It's clear that those considering growing their business see the benefits of a strong online presence, be that a company website or social media activity, but choosing the perfect marketing mix is far from easy. That's where consultancy can really count.
"A genuine consultant will aim to understand a business's objectives and challenges, and devise a marketing plan that will meet their specific aims."
When questioned about the attributes business owners looked for when seeking specialist marketing advice, almost 80% felt that transparent and honest guidance was important. Experience in their sector and of course cost were also key contributors.
"Trust, knowledge and value are key," he continued. "Businesses want impartial, expert advice that doesn't cost the earth. They also want a provider who works with them rather than for them."
Consultative approach delivers "successful campaigns"
Reach Solutions has acted on the survey results by adopting a more consultative approach, according to commercial marketing director of Reach Solutions regionals, Nick Copson.
He said: "We have used these findings to not only help shape our commercial products, but also the way in which we interact with advertisers, turning what was once a sales call into a business development and advice session.
"It's clear that our customer's customers are beset from all sides with sales messages so to really gain traction SMEs need to market across as many channels as they can to reach their target audience.
"This knowledge has enabled us to develop a suite of effective marketing solutions. Every channel presents an opportunity to market and it's our aim to work with SMEs to deliver successful campaigns."